Stories of Change
---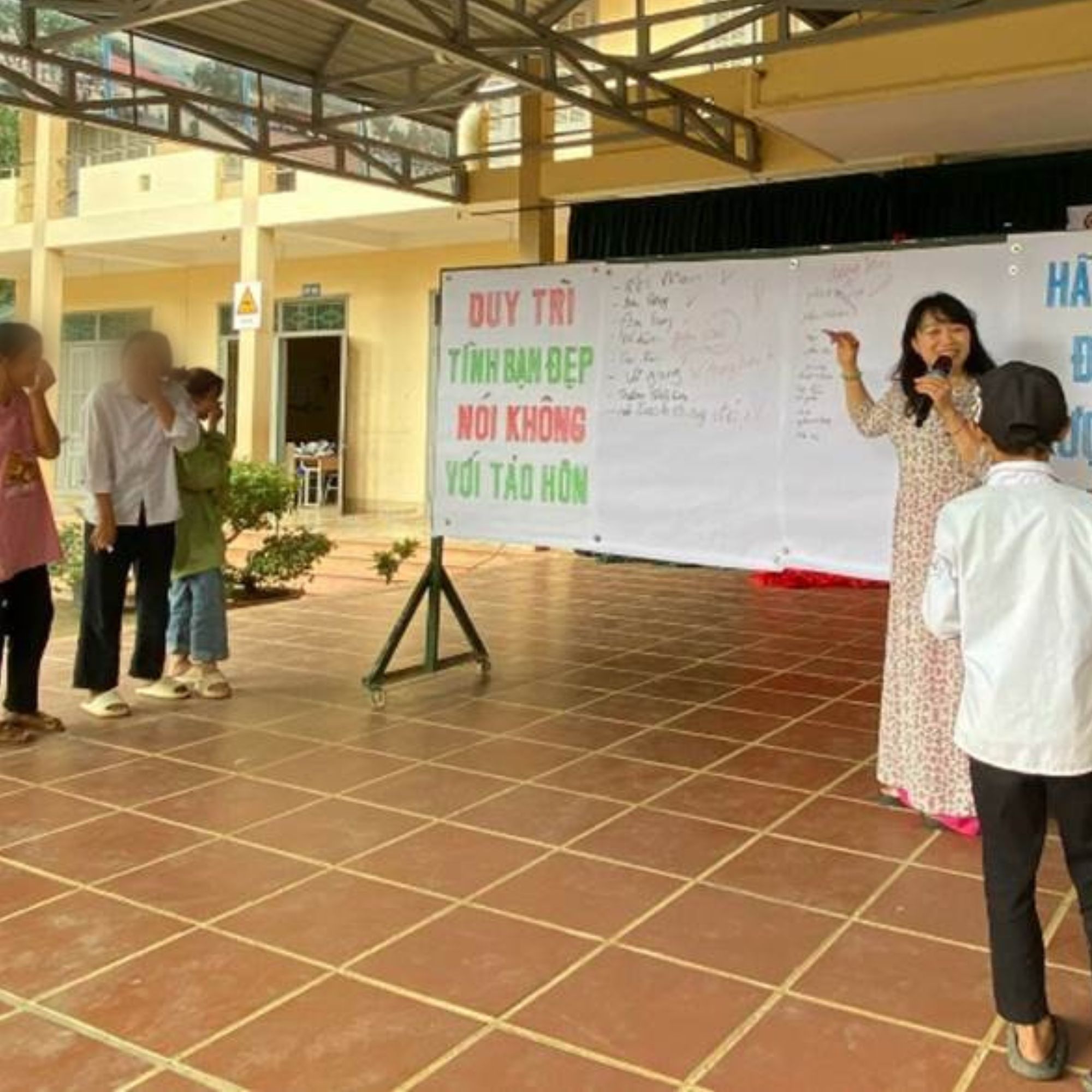 Ngoc Steps on the Stage of Knowledge
Sometimes, not having the answers can lead you to an important learning experience. This is what 14-year-old Lo Thanh Ngoc learned recently when she attended a CWS educational event on reproductive health and child marriage prevention at her school in Vietnam.
Like many of her peers, Ngoc was shy and had never set foot on a stage. However, during a warm-up game, she and some of her friends accidentally broke the rules, leading them to an unexpected opportunity. According to the game's protocol, rule-breakers were invited to join the lead teacher on stage. Ngoc and her friends were hesitant but summoned up the courage to participate in a game called "Mysterious Gift Box," designed to challenge their knowledge.
The first question was, "What is child marriage and what are its consequences?" Ngoc shook her head and said, "I don't know." Her whole group of friends tried to help but no one had the right answer.
The question that followed was simple but offered Ngoc some clarity. "How old is your mother this year?" the teacher asked. After a moment of thought, Ngoc responded, "My mother is turning 30 this year." As she calculated her mother's age, Ngoc had an enlightening realization: her mother had given birth to her when she was just 16 years old. This realization brought tears to Ngoc's eyes and those of her friends, but it also brought a gentle smile to Ngoc's face. She whispered softly, "Now I understand; in my village, people still marry so early."
After the game, Ngoc's shyness turned into excitement as she shared, "I've never been on stage because I'm afraid I won't be able to answer questions. Thank you to the teacher for helping me with the answers. I hope to have more games like this, so we can gain more knowledge for ourselves."
The teacher who had been leading the event, Ms. Nguyen Thi Thuong, shared her own reflections: "I have realized one thing which is not to be greedy for knowledge and instead understand students' abilities and ask appropriate questions that students can answer and will help them feel confident and bold."
By seeking knowledge with humility and honest questions, the teachers and children of this school are working together to ensure young generations make the best decisions possible for a safe and happy life.
To learn more about CWS' work in Vietnam, visit our website.
---