Stories of Change
---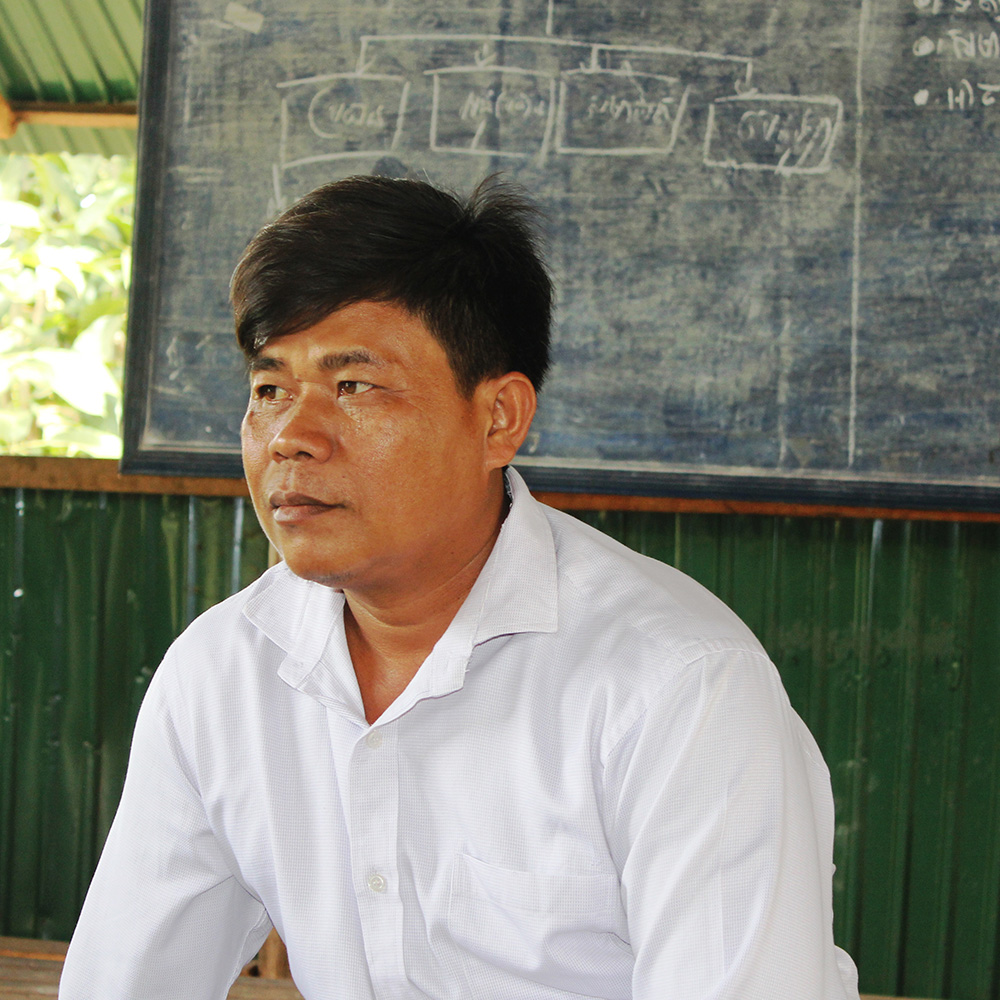 Hean Chan, Village Development Committee member in Anlong Thmar village in Cambodia.
---
This year, CWS programs in Cambodia reached 21,373 individuals in 83 communities.
Promoting Better Lives: Paying it Forward
Hean Chan, 43, lives in Anlong Thmar village in Central Cambodia with his wife and teenage three boys. Chan has been working with CWS since 2011 to help bring development and opportunity to his own family and to his village. In Anlong Thmar, as in the hundreds of villages across Cambodia where CWS has invested for decades, a key part of helping people help themselves is to help create a Village Development Committee. Chan is now an active member of the committe in Anlong Thmar and is working with CWS staff to help identify which families are most in need of support. This prioritization is based on his in-depth conversations with them about their hopes and plans, as well as their basic needs.
When CWS and our partners help communities form Village Development Committees, interested people have a chance to learn about self-governance and how to be an effective group working for others, plus coaching and ongoing support for things like planning, community project design and even funding proposal writing to attract outside help for their development. Other practical education and training workshops range from bookkeeping to First Aid; from reducing the impact of future disasters to understanding and promoting human rights; from communications and leadership skills to understanding women's rightful roles in village governance.
The beauty of the Village Development Committee lies in its sustainability. The committee is formed by the community, and the CWS role is sharing information and – importantly – awareness of where more information can be accessed. There is also knowledge and skills development and not just material support. (Although  supplies are often part of our support, especially for most vulnerable families, and for collective community improvement, too.) CWS funds often combine with people's own contributions to build community wells or household ceramic water filters or other materials to support improved hygiene and water access.
There are a lot of obvious benefits to supporting Village Development Committees. One that may be a little less obvious – but that is still critically important – is that communities become better organized and unified. They have a more independent view and sense of themselves and know they are able to address their own challenges and work together to fulfill their rights by drawing on their own knowledge, skills and community assets as well as outside information.
When asked about changes he has seen in Anlong Thmar since CWS first partnered with him and his neighbors, he said, "I have seen a lot of positive change and improvement. Now we have knowledge and skills. For example, like my wife, many families are better prepared, and equipped, to grow vegetables or raise chickens. This has meant that more families have enough to eat and the possibility to support themselves – by selling surplus produce. Families now understand the importance and practice of good hygiene, and almost all of us have a latrine and use a filter for our drinking water."
Chan has also felt the positive effects of the partnership with CWS in himself. "Before joining up with CWS, I was very hot tempered. I did not take criticism and would get angry if my work was questioned. In working CWS team members, I've broadened outlook and my improved my abilities; I now reflect on my behavior and can see constructive criticism as useful. When we work with others, together we need to be flexible and that's how we learn and change." For sure, through CWS interest and investment, Chan's village, his family and he have all done this.
—–
About the program:
More than 80 percent of Cambodians live in rural areas, and among these rural populations many families do not have access to basic necessities like improved sanitation or clean water. The CWS Promoting Better Lives program is designed to optimize our impact in rural communities by building local knowledge and capacity as well as providing material assistance to help communities:
– increase safe water access
– improve water use and hygiene practices
– intensify and diversify agriculture
– enhance income opportunities for the poor, poorest and other vulnerable groups
Promoting Better Lives builds on successful experience and extensive partnership with government-supported Commune Councils and Village Development Committees and Cambodian non-government organizations as well as technical support from government departments. Together with national and local government partners, Promoting Better Lives is now supporting especially poor and vulnerable families in 67 Battambang and Preah Vihear provinces to improve their water supply and hygiene-related behaviors, to intensify and diversify their agriculture and to enhance employment and earning opportunities.
---